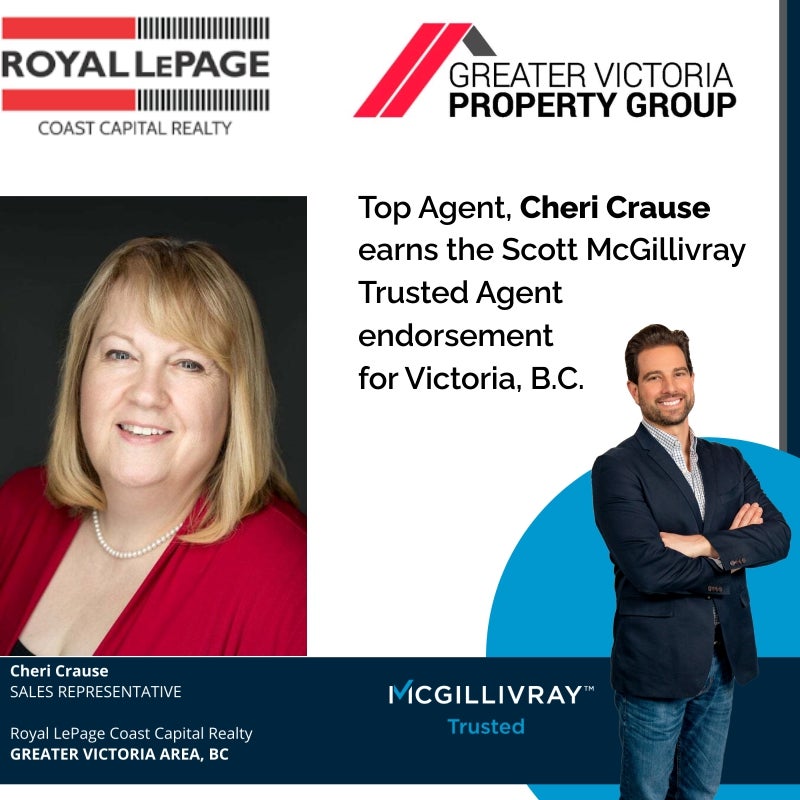 Victoria, BC/Jan 2022 – From his experience with 100's of real estate investments over the past 20 years, TV star Scott McGillivray knows first hand about the value a knowledgeable, connected, and dedicated Real Estate Agent brings to the buying and selling process.  Cheri Crause of Royal LePage, Coast Capital Realty is proud to have been recognized as the exclusive McGillivray Trusted Agent in the Victoria market.
"Partner with the Agent I trust!"
recommends Scott McGillivray,
real estate expert and star of the TV shows Income Property and Buyers Bootcamp
"Selling a home can be a complex process so it's important to use an experienced agent that knows your market," advises Scott. "It's important to partner with an agent with a strong marketing strategy that creates demand and gets your home SOLD for top dollar!" Real Estate Agents in the Scott McGillivray Trusted Agent program have been selected based on a combination of their excellence in client satisfaction, depth of experience, marketing, and delivering results.
When selling your home, Cheri's sole focus is getting you RESULTS! The Greater Victoria Property Group recognizes that first and foremost, specific factors need to be achieved; "We know that you want to get the most money with the least hassle – and we offer the protection, resources, and track record to make that happen." Cheri and her team offer superior service that gets to the heart of their client's needs and wants, while helping them become an educated buyer or seller.
 
Cheri has been selling real estate in Greater Victoria and delivering exceptional results to her clients for over 14 years. Cheri generates business from past clients who have become a constant source of referrals and is dedicated to building long-term relationships with those she works with. You can trust that she will handle every detail and provide her expertise in the buying or selling of your most valuable asset.

In addition to her status as a Trusted Agent, Cheri is also a real estate investor, apartment developer, former Certified Financial Planner (CFP), and a current Certified Professional Consultant on Aging (CPCA). She has been on the faculty of the Canadian Academy of Senior Advisors, training other professionals on the health, social and financial aspects of aging. Cheri has achieved RED DIAMOND status as a REALTOR® with Royal LePage Coast Capital Realty, and GOLD status with MLS. She and her partner, Rick Hoogendoorn, are also 4-time Deal of the Year winners with Ozzie Jurock's Real Estate Action Group - a real estate investment club out of Vancouver.
Experience the Greater Victoria Property Group difference at Royal LePage Coast Capital Realty. Call or visit online for your free home evaluation today and see why top Realtor, Cheri Crause has earned the McGillivray Trusted Agent endorsement!